Download The Bay Area Bold app now!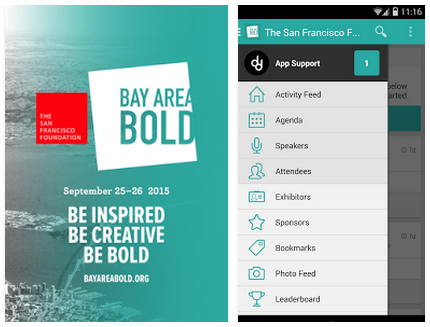 Connect with Speakers and Network with other Guests
Whether it is about exchanging ideas, joining a discussion, or scheduling a time to meet up, the BAB mobile event app makes it easier for you to communicate with guests and speakers right from your phone or tablet.
Share Your Interests
You can use the BAB app to select networking tags that represent your interests and areas of expertise. The attendee list in the app shows others who share your same interests, for easy networking and discovery.
Communicate Directly
Use the BAB app to have exclusive conversations with other guests through private messaging within the app.
Make Speakers Accessible
Speakers may not have enough time to answer questions before the next session begins or you may have opinions about what you just heard. Reach event speakers or share your opinions with other attendees through "comments" or "likes" in the activity feed of the event or specific sessions.
Integrations
You can link your app profile to Facebook, Twitter, and LinkedIn to share insights and photos from the event from one central hub.